Rob Bascue Sensei
Owner and Instructor of Northwest Bujinkan
Based in Portland, Oregon, he has been training in the martial arts for over 44 years – with over 30 of these in the Bujinkan.  He is a Bujinkan Dai Shihan (licensed instructor), and currently holds the rank of Jugo dan (15th degree) black belt.
In addition, Rob Sensei has also train extensively in the arts of Tae Kwon Do, Escrima, Kali, Karate, Judo, Jujutsu, kickboxing, Kendo, and boxing.

Rob Sensei's teaching career began in 1986.  Since that time he has taught various divisions of local and federal law enforcement, military service members, special security operations teams, SORT team members from state and federal corrections departments, and thousands of individual men, women, and children.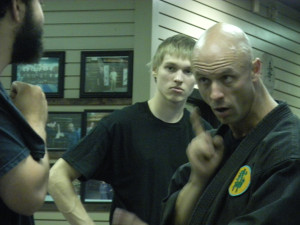 His vast experience in training special-operations teams has won him high acclaim among elite, military training groups.  His unique ability to create and impart customized applications to his students has earned him an unrivaled teaching reputation in the field.
Rob Sensei travels regularly to Japan to train with Grand Master Masaaki Hatsumi (Soke), and has been directly under Shihan Nagato Sensei for the last 19yrs.